Introduction
~~~
A unique relationship has developed between two men, Robert Boardman and David Pratt, who live thousands of miles apart and had, for many years, never met each other in person. Rob and Dave are both Volkswagen enthusiasts -- they "met" in February 1998 through an Internet newsgroup, rec.autos.makers.vw.aircooled (RAMVA) as Dave asked questions and Rob responded. Soon e-mail notes were flying through cyberspace almost daily between Adelaide, Australia (Rob's home) and Richland, Washington, U.S.A (Dave's home). The relationship has since broadened far beyond Volkswagens, as the two have found many common interests.
But this treatise has to do with Volkswagens -- specifically Volkswagen Beetles. Neither Rob nor Dave are trained mechanics, but we love working on our cars and enjoy helping others with straightforward, easy-to-understand advice. Much of this discussion has found its way into the correspondence between Rob and Dave and ultimately to the development of this Web site - Rob and Dave's Aircooled Volkswagen Pages. Our intent in preparing this Web site is to pull together the nuggets of aircooled VW advice that have resulted from Rob's conversations with Dave and others, all for the benefit of others who love these little cars and want to keep them on the road.
A word about how this material is organized: The engine, of course, is the heart of the VW Bug. But there are a number of "organs" that contribute to the proper and efficient operation of the engine. It's hard to say that one is more important than the other, but certainly near the top of the list in importance are the carburetor, which meters the proper mixture of air and fuel into the cylinders, and the distributor, which, at precisely the right time, sends a spark to each spark plug to ignite and fuel/air mixture in the cylinder. "Fuel and Spark" will be emphasized repeatedly on these pages.
Other components are equally as important, and each will be considered in its turn as you run down the Table of Contents -- the alternator (or generator), the fuel pump, the fan, etc., etc. A large proportion of the questions we have heard asked have to do with the distributor and the carburetor, and the tuning of these components in general. For this reason we will start this treatise with the fuel delivery system, the carburetor in particular, and move from there in hopefully an organized fashion to the other components of the VW engine and the Bug itself.
The operations of the carburetor and the distributor are closely interrelated; it is difficult to talk about one without talking about the other. First we will address the operation of the carburetor, which will lead naturally into a discussion of carburetor tuning and the interaction of the carburetor and distributor -- and then on and on and on ...
There is another way you can "surf" this material. We found a wonderful indexing tool on the Internet called the "Mihov Index." Dave used it initially to prepare an index of the material found herein, then has added to the index considerably as more material has been added. So -- with the index you can go directly to your topic of interest without having to wade through the Table of Contents.
~~~
Introducing Rob and Dave
Rob -
Rob learned to drive in 1967 in his Dad's '60 beetle. His Dad later owned a 65 VW Camper too (1500ccs of unobtainable power!). So when the chance came to buy a new car in January 1971, naturally Rob chose his own Beetle - a 1970 1500cc swing axle model. He would have liked a blue one, but the choices were limited to black, red and beige - he chose a Savannah Beige one and named it "Bertie."
Rob still has Bertie (that's 49 years in 2019!) -- it now has over 248,000 miles on it's original engine (rebuilt, but still original). Time and miles have taken their toll, and the car began to look rather unkempt (torn headliner, faded paint, a few rust spots) -- but Rob found it hard to take Bertie off the road for a restoration when he enjoyed driving it so much! But restoration of Bertie was forced on April 1, 1999 when he was hit from behind by an inattentive driver. Both ends of the car were "shortened" in the accident. Bertie is therefore undergoing a forced restoration, which is taking some time. Much of Rob's experience with Bertie's restoration will be recorded in this treatise.
Rob missed driving a beetle so much he just had to get another one whilst Bertie is up on blocks, and in early 2001 he came across a very nice 1968 Beetle that was soon dubbed "Bradley" by Rob's teenage daughter. Bradley has a '71 twin port 1600cc engine and a semi-automatic transmission which has been converted to manual. The car drives very nicely (once Rob got the leaking fuel, worn out carburettor, miswired headlights and badly adjusted clutch and brakes sorted out), so Rob's a happy chappy again. Unfortunately the Bertie restoration isn't going anywhere at present. The kids are growing bigger and the bank balance is growing smaller. But Bertie's not abandoned -- just a bit delayed.
Rob likes to do his own maintenance and has done so since Bertie was new. Rob swears that his Bugs have characters of their own. For instance, he claims, Bertie HATES driving in Sydney. On those occasions when Rob's had to travel there, he would have to say to Bertie, "Now I know you hate Sydney, but we will only be here a short time, and I'd hate to see you break down in front of all those cars who have to LIVE here" -- and then, Rob affirms, Bertie would behave perfectly. If he forgot to talk to it first, though, it ALWAYS started sputtering and stalling at a particular set of lights on the outskirts of town. "No kidding!" Rob says.
Rob and Dave both have wives named Sharon -- and in many ways they are two peas in a pod! Neither of them likes the Bugs much (too small, too noisy), but they indulge their husbands in their 'other' passion (the VW). Rob's youngest daughter, under the influence of Mum, says "Buggies are ugly aren't they" unless they have a flower holder on the dash, then they are okay (neither Rob nor Dave have a flower holder on the dash!).
Dave -
Dave isn't a mechanic by any stretch, but he loves aircooled Volkswagens and has spent a fair amount of time tinkering with them. His love affair with VWs dates from about 1968, when in quick succession he owned three VW Beetles of early 1960s vintage. He and his wife Sharon courted in his little 1965 Beetle (which they named "Herbie"); she says Dave paid more attention to the VW ("fondling fenders and caressing carburetors") than he did to her!
Since then Sharon and Dave have owned a 1971 Squareback (Type 3) and a 1977 Bus (Type 2), but Dave's first love will always be the aircooled Beetle (Type 1). In 1997 Dave's son Michael purchased a beautiful little black 1973 Super Beetle, soon dubbed "Black Beauty." Dave couldn't keep his hands off of Mike's car, and over the next several years Dave completely rebuilt it -- necessary, as the car had MANY more problems than they realized when Mike bought it.
In July 1997 Dave took a little time off to have heart surgery (six by-passes), but he was back working on the car in September. It was primarily while Mike was away on a two-year service assignment in the Midwest that Dave completely rebuilt "Beauty.". Many experiences resulted from this work, and these experiences are documented on this Web page. Lots of "School of Hard Knocks" experiences (lessons learned the hard way), are documented herein. Hopefully our experiences will help others to not make the same mistakes!
The rebuild work on Mike's car (techically not a "restoration," since it's not entirely "stock") started off well enough. The car had a rebuilt 1971 1600cc dual-port engine with high compression when Mike bought it, and the clutch, starter motor and alternator had recently been replaced (so the PO said). But the car had many, many other problems -- now more than seven years since the purchase of this car, Dave has replaced, rebuilt, or refurbished virtually every component between the front and rear license plates, and the car now has a new coat of metallic black paint.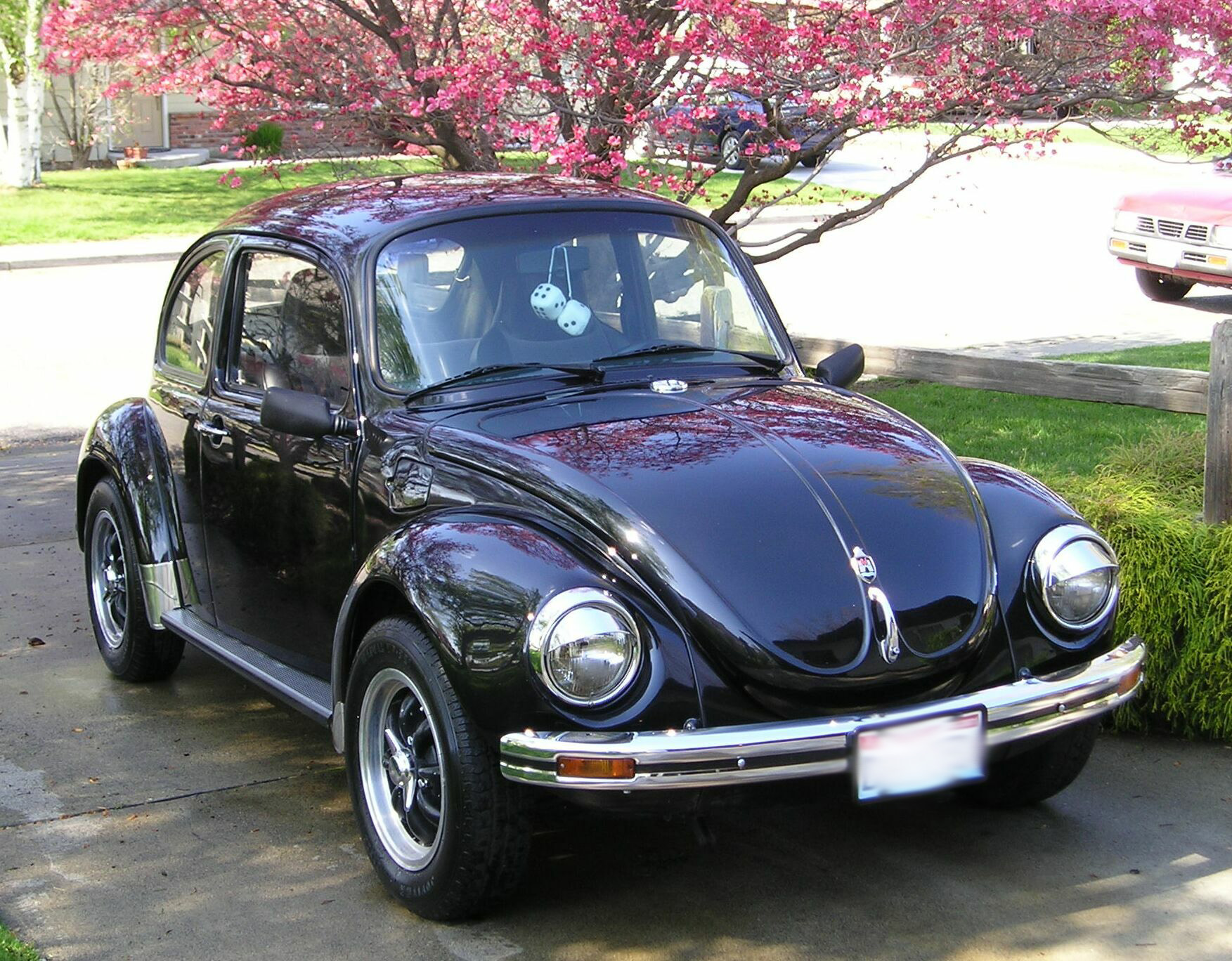 "Black Beauty"
~~~
Rob and Dave have "talked" through virtually every problem associated with Volkswagen Bugs that you can think of. In addition, Rob has provided invaluable advice to many who have written, either directly or through the RAMVA Newsgroup. With the help of modern electronic technology, Dave has saved every word of these e-mail conversations. What follows on these pages is a condensation of all of this "Bug" talk as well as quite a few procedures, which we have developed largely from our experience. We have conscientiously tried to make these procedures as clear and unambiguous as possible, having been left scratching our heads over many others we have encountered. As muc as possible we have al;so included both US English and British/Australian terminology so the web pages are readable by folks in most parts of the English speaking world.
It is our hope that a few people out there will find this material useful so that they will be able to keep their beautiful little Bugs zooming down the road! ("Fweeming" is the term coined by John Henry (The Bug Shop) for the sound our Bugs make while thus zooming down the highway.)
~~~
"Volkswoman" expressed it best in an article in one of the popular VW magazines -- Do You Care Enough!?
Rob and Dave have talked many times about the fact that "Ya Gotta Love 'Em!" (Our wives sometimes call it a "fetish," given the excessive attention, even reverence, we give to our Bugs! :-)
Rob said it best in November of 2001 -
Last night I was sitting on a stool at the back of Bradley (my '68 Bug) filing the points and resetting them and thinking, "on a modern car this wouldn't be necessary" and then thinking "but that's why I like the VW -- it rewards you when you give it some TLC". It's not JUST the car, it's the processes involved in owning one. I'd noticed a slight roughness over the last few days, and the timing/points adjustment was just what it wanted. :-) I find it quite theraputic to do those little maintenance things… There's nothing quite as satisfying as working through a difficult problem and getting that engine purring smoothly.
Dave couldn't agree more. He wrote, also in November 2001 -
Our neighbor next door came over the other day to look at Beauty just as I'd finished washing her. His comment was, "Well, when it's all said and done it's still just a Volkswagen, isn't it!" Some people just doesn't get it. It seems there are two kinds of people in this world -- people who love Volkswagens, and people who don't. We fall in the first category, despite all the blood, sweat and tears! (Sometimes it's more of a love/hate relationship, but ...)
It's our hope that you do "get it," and that you love your little car enough to care for it and keep in turning heads as it carries you down the road.
Good luck, and keep fweemin'!

Robert Boardman
David Pratt
* * * * *